HUBUNGAN PENGETAHUAN DAN SIKAP TERHADAP PEMBERIAN MP ASI PADA IBU BATITA WASTING DI UPTD PUSKESMAS MAJALENGKA KABUPATEN MAJALENGKA
RELATIONSHIP OF KNOWLEDGE AND ATTITUDE TOWARDS FEEDING OF MP ASI TO MOTHERS TO WASTING AT UPTD PUSKESMAS MAJALENGKA, MAJALENGKA DISTRICS
Desi Evitasari

Universitas Yayasan Pendidikan Imam Bonjol Majalengka

Merlly Amalia

Universitas Yayasan Pendidikan Imam Bonjol Majalengka

Intan Prawita Rahayu

Universitas Yayasan Pendidikan Imam Bonjol Majalengka
Keywords:
Knowledge, Attitude, Wasting
Abstract
Wasting is a term used to describe nutritional and nutritional problems in children because they are not met adequately. The habit of giving MP-ASI that is not right and the mother's ignorance about the benefits and how to give MP-ASI correctly is one of the factors that can affect the high incidence of wasting in toddlers. The purpose of this study was to determine the relationship between knowledge and attitudes towards complementary feeding for wasting mothers. This study used a quantitative study with a cross sectional design. The population is all mothers who have toddlers wasting in UPTD Puskesmas Majalengka as many as 158 people and the sample is 61 people with proportionate stratified random sampling technique. Univariate data analysis using frequency distribution and bivariate using chi square test. The results showed that less than half (34.4%) of wasting mothers with MP ASI were not appropriate, less than half (26.2%) of mothers with wasting toddlers had less knowledge and less than half (41.0%) ) mother toddler wasting her unfavorable attitude. There is a relationship between knowledge (r value = 0.000) and attitude (r value = 0.016) with the provision of MP ASI to mothers of wasting toddlers.
Downloads
Download data is not yet available.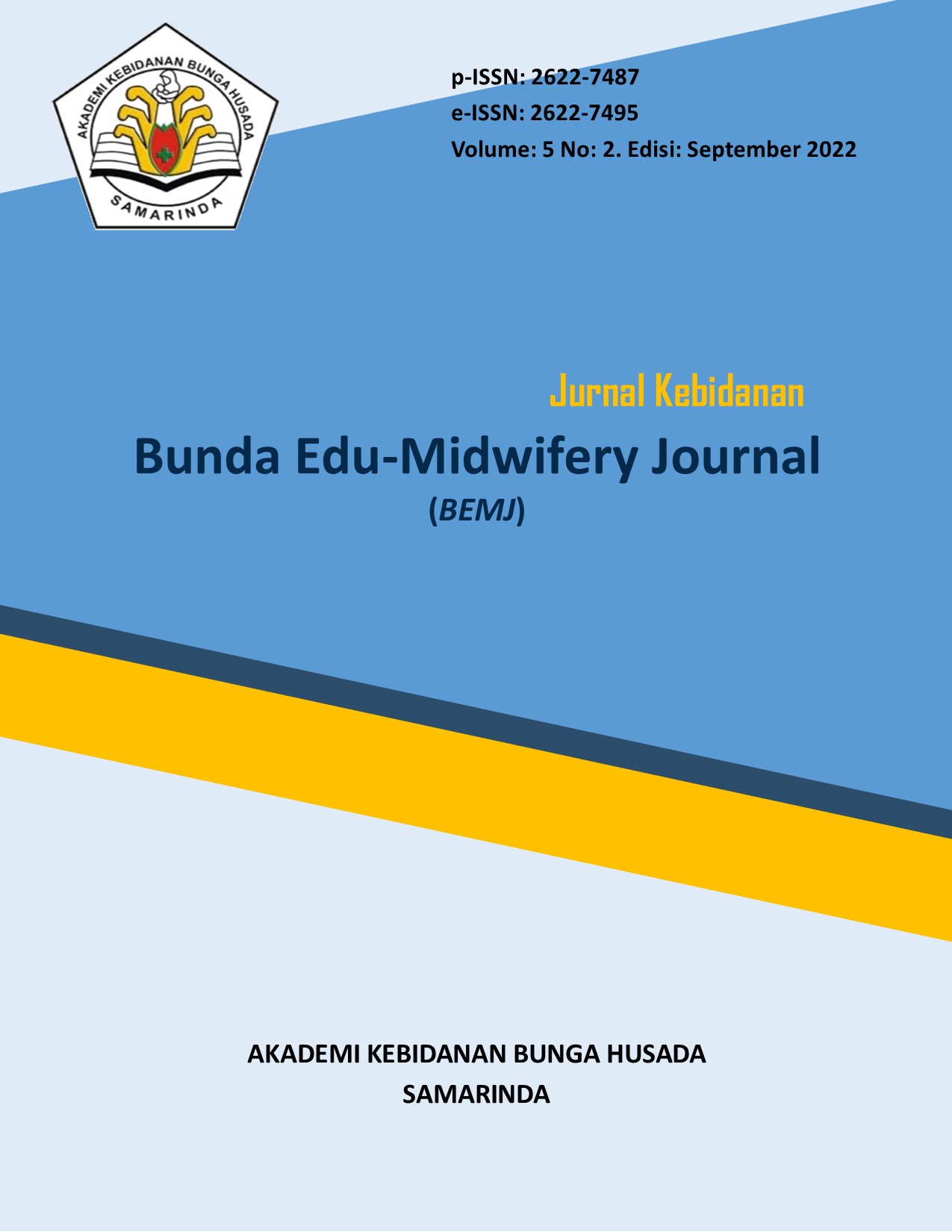 How to Cite
Evitasari, D., Amalia, M., & Rahayu, I. (2022). HUBUNGAN PENGETAHUAN DAN SIKAP TERHADAP PEMBERIAN MP ASI PADA IBU BATITA WASTING DI UPTD PUSKESMAS MAJALENGKA KABUPATEN MAJALENGKA. Bunda Edu-Midwifery Journal (BEMJ), 5(2), 44-52. https://doi.org/10.54100/bemj.v5i2.67