PERILAKU IBU HAMIL DALAM PENCEGAHAN STUNTING DI PUSKESMAS PANARUNG
BEHAVIOR OF PREGNANT MOTHERS IN STUNTING PREVENTION AT PUSKESMAS PANARUNG
Muna Nadia

Akademi kebidanan betang asi raya
Keywords:
Behavior, Stunting, 1000 HPK
Abstract
Stunting can occur as a result of malnutrition, especially during the First 1000 Days of Life (1000 HPK). Health behavior in a family is strongly influenced by the role of a mother. Factors in the mother such as knowledge, education, occupation, attitudes, and so on will greatly affect the prevention of child stunting. Mother's knowledge about stunting prevention carried out during pregnancy will be a mother's motivation to prevent 1000 HPK. The purpose of the study was to determine the behavior of pregnant women in preventing stunting at the Panarung Health Center.The research design was cross sectional. The research population was pregnant women who were at the Panarung Health Center during August, as many as 34 people with the sampling technique used was accidental sampling. The results showed that 61.8% of respondents had good behavior in preventing stunting. The results of the bivariate test showed age (p=0.691), education (p=0.013), occupation (p=0.079), parity (p=0.021), and family members smoker (p=0.004). The conclusion of this study is that there is a relationship between education, parity, and smoking family members with the behavior of pregnant women in preventing stunting.
Downloads
Download data is not yet available.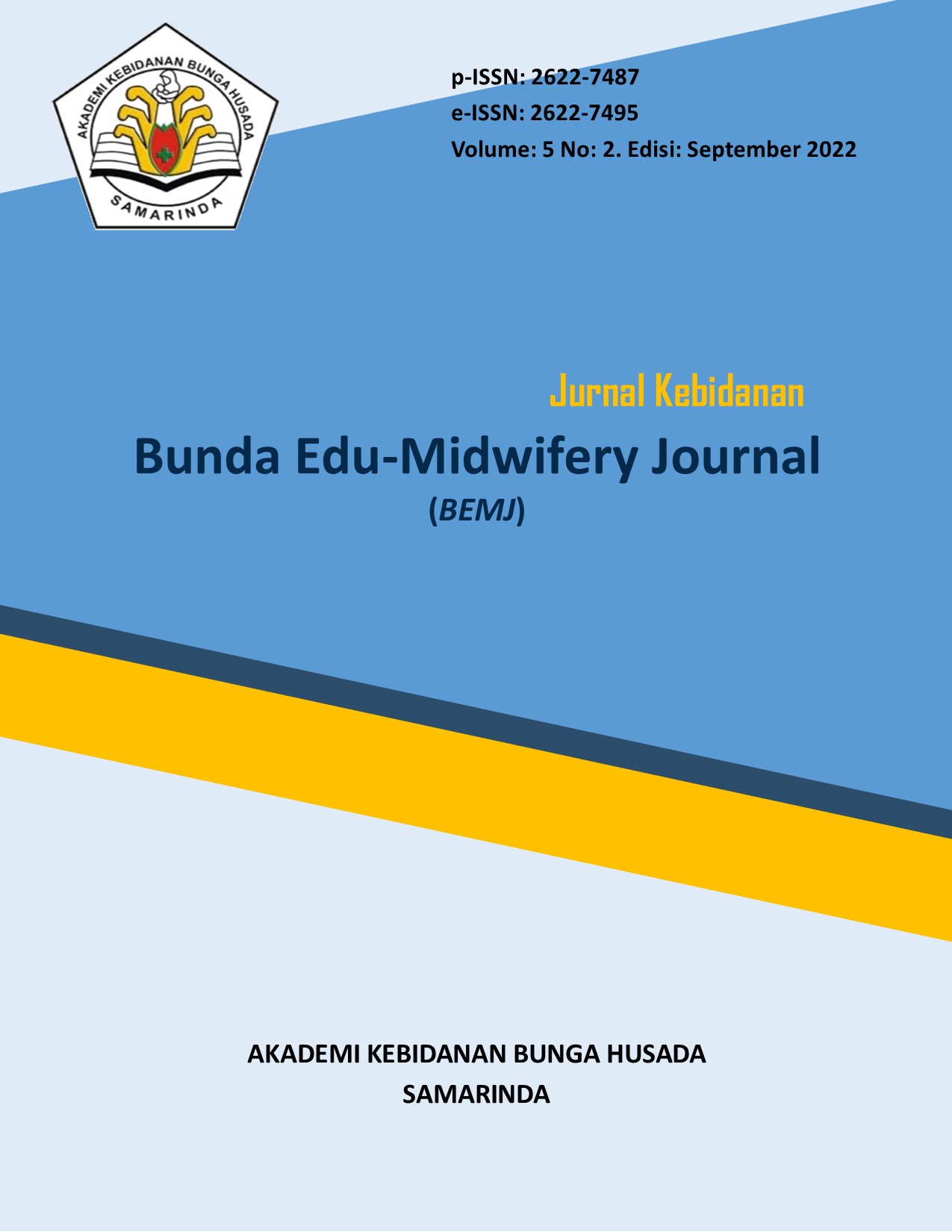 How to Cite
Nadia, M. (2022). PERILAKU IBU HAMIL DALAM PENCEGAHAN STUNTING DI PUSKESMAS PANARUNG. Bunda Edu-Midwifery Journal (BEMJ), 5(2), 31-36. https://doi.org/10.54100/bemj.v5i2.66